MY CURRENT COMPUTERS
MY SECONDARY OFFICE
Presently I have two desktops that I work from in my secondary office. The HP pavilion a300n is used for book keeping, email, web browsing and other general office chores. It has three hard drives totaling about half of a terabyte of storage. It has 2 gigs of RAM and a geForce graphics card. It also has a DVD and a CD burner. The monitor on this machine is a 19" wide screen LCD. This computer shipped as a quiet model with no cooling fan(s). Once I added a couple of hard drives, an extra disk burner and a graphics card it got hot and unstable. I added a big cooling fan to vent the case and a smaller fan to cool the hard drives. Once I did this it became rock solid stable again.
It is really nothing to write home about, just the cheapest machine on the shelf at my local office supply when I needed a computer in a hurry and didn't have time to have something custom configured. I upgraded the XP Home to XP Pro just for grins. I do not do email on any of my real "work" machines. This stems from habits developed in the good ol days of crippling viruses and my desire not to risk the work flow of the business. A separate computer that was not networked to anything else in the shop for email and web browsing was a lot safer and the habit just seems to stick although I now do a bit of web browsing on the other office machines now but email is still contained to just this machine.
My secondary design station is a Gateway GT5224. It has 6 gigs of RAM and a total of 750 gigabytes of storage. It has had a geForce graphics card with a half gig of RAM added to aid in rendering 3D designs. The 22" Viewsonic High Definition monitor keeps me from having to strain my tired eyes to see small details. Since scanning is not as necessary as in the past I am just using a mid grade HP scanner for capturing the odd print image. This machine shipped with the Vista operating system but I burned that OS to the ground and installed a nice crisp copy of XP Pro for reliabilities sake.
Instead of building computers from the ground up, my current theory is to purchase machines that I find at a deal then do whatever upgrades are necessary to get it up to my needs and standards. This seems to be cheaper than home building but still gives me the customization and features I need in the end.
MY HOME OFFICE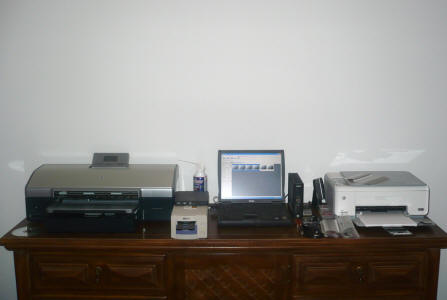 THE AMAZING HP 8750 PHOTO PRINTER
I do most all of my photoshop editing at my primary design station at work. But due to the dusty environment at work I do my photo printing and film scanning at home. This station is controlled from an older Dell laptop and a half terrabite external hard drive keeps a lot of photo files close at hand. The Minolta Dimage scan film scanner scans 35mm slides and negatives. I have spent about five years thus far trying to archive all of my old film images but have yet to even knock a dent in 30 years worth of film archives.
At this station I have a cheap copier/printer for documents that don't require high resolution. When it comes time to print large photos the 9 color HP 8750 does an outstanding job and will print enlargements up to 13" x 19". The prints off of this machine are nothing short of stunning. I also have two smaller HP 4" x 6" format photo printers. Between the three photo printers I have the ability to print large volumes of standard size prints quickly and the occasional enlargement from 5" x 7" and virtually any size up to the maximum of the HP 8750.
MY PRIMARY OFFICE WORK STATION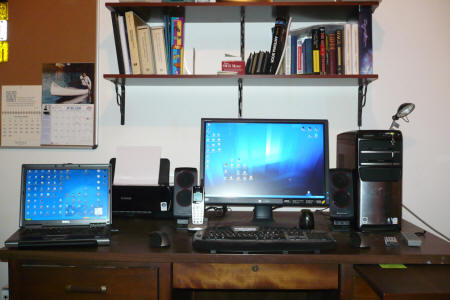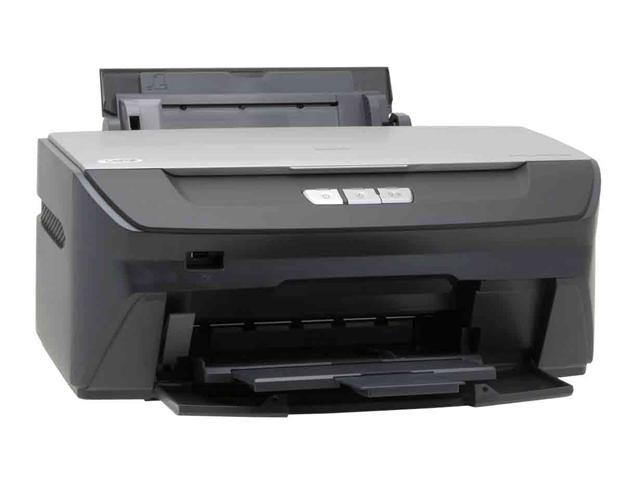 My primary work station is based around a Intel QuadCore processor. This computer has four processors running at 2.8 GHz each. It has 8 gigabytes of RAM and a 10,000 RPM SATA Raptor primary drive for screaming performance when loading and running applications. For my first tier of data it has a 400 megabyte SATA hard drive and all of my photos are stored on an internal one terabyte hard drive. As currently configured this computer has a total of over 1.5 terabytes of total storage. The 22" high definition monitor is controlled by an overclocked video card with 512 megabytes of video RAM.
This work station also has two printers tethered to it. One is for documents and then there is a second Epson printer for printing high resolution photos, CD and DVD disks as needed. I use a Pantone Huey Pro for color management with this and all three of my current work stations.
SEE MORE ABOUT THE ABOVE COMPUTER (IT DESERVES ITS OWN PAGE)
Currently I am using a Dell Lattitude D630 laptop as my "man about town" machine. I went out of my way to have this configured to exactly what I thought a laptop should be. I needed a machine that would be truly portable yet still useful for graphics work. It needed to run everything from image editing software, 3D CAD/CAM processor intensive software to rendering video files. This machine has a Intel dual core processor, 4 gigbytes of system RAM, Microsoft XP Pro, a 256 megabyte discrete video card and a 120 gigabyte hard drive.
Navigation
ALL OF THE PHOTOS AND TEXT ON THIS SITE IS COPYRIGHTED. NO PORTION MAY BE REPRODUCED WITHOUT EXPRESSED WRITTEN CONSENT.