Southern Ice CLIMBING
OOPS, WE ARE GOING NATIONWIDE NOW
Southern Ice Climbing is thought by many to be a contradiction in terms... We have some of the finest Ice on the planet and only a handful of climbers that take advantage of all our fine resource. While not as consistent as the Western and Northern areas we still have our fair share of good climbing conditions. In my life there is a certain order to things. It goes like this... God, Family, Ice Climbing, Work, Mountaineering, Rock Climbing, Cycling, Guns, Country, etc.
While this started out as an exclusive page for Southern Ice I have slowly been adding stuff from New England, the Rocky Mountains and even a little from Europe. This section sees consistent growth so keep checking back for new stuff. Hope you enjoy it, I sure have had fun climbing all of this stuff.
A SAMPLING OF NORTH GEORGIA ICE
Sit back and Enjoy the tour of Southern Ice Climbing. Due to several of the climbs featured being located on private property we will not reveal the exact location of some climbs. Also remember that ice climbing is dangerous. Do not read this page and get any dumb ideas. Ice Climbing can hurt, mangle and kill you. We do not assume any liability for anyone's use of this information. If you climb ice long enough it will eventually hurt you.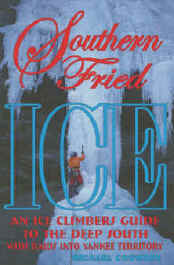 THE NEW GUIDEBOOK IS HERE!!! CHECK IT OUT!!!
ICE CLIMBING NAVIGATION
COOL NETWORK Navigation
ALL OF THE PHOTOS AND TEXT ON THIS SITE IS COPYRIGHTED. NO PORTION MAY BE REPRODUCED WITHOUT EXPRESSED WRITTEN CONSENT.