OLD SCHOOL COMPUTERS
Over the years I have seen computers go from interesting novelties to mind blowing work stations. From my first Tandy TRS 80 to dual core Pentiums and everything in between. I have used a wide variety of computers for everything from entertainment to feeding my family. Follow along as I take you through a brief history of the machines that have graced my life.
Boy was I excited by the IBM XT machine pictured above. It was the second generation of the original IBM PC. This computer boasted 64k of RAM and a 10 meg hard drive. Included were dual 5 1/4 inch floppies and it was upgraded with a 8087 math co-processor. This computer was the first that I was able to do real work with but it didn't really aid me in making a living at my chosen profession of sign making. Cost on this machine was almost 7,000 dollars in 1984 dollars. What fun...
It is almost impossible to believe I paid almost 15,000 dollars for this 286 Wyse computer, Cannon tractor feed scanner and the software that tied it all together. I was even happy about it. This computer had double the hard drive capacity of the IBM with a total of 20 megs and had a single 5.25 floppy drive. I upgraded this machine with a 287 math co-processor which really increased its speed. This machine paid for itself quickly and carried its own weight for close to a decade. With this machine I could actually scan a hard copy piece of artwork, convert the image to a vector file and output it as ready to go graphics for signs.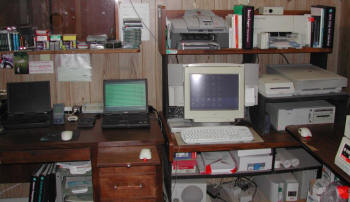 My next big leap was for this Dell XPS 166. I would say this is where computer technology first became powerful enough to make CAD design work really out perform a man with a brush. This technology was what changed the sign industry forever and not necessarily for the better. In the hands of a competent designer it was a miracle tool. It allowed for full color design and output for the first time in the industry. The sad thing about the advent of this technology was that it allowed folks with no natural talent to enter into the graphics business.
This desktop shipped with a 20 gig hard drive and a 4x CD drive. It shipped with Windows 95 and saw upgrades to Windows 98 and Windows ME as it continued to see lots of service. Many upgrades along with scuzy and a whopping 128 megs of RAM made it a premier machine for its day. The HP ScanJet 4c scanner was a 1,200 dollar option and put me fully into the color realm. The 17" Sony Trinitron monitor was the biggest monitor I had ever seen up to that point. This machine is still set up in a corner of the shop and is configured for dual boot so that I can play with the Linux operating system out of a need to be curious.
Navigation
ALL OF THE PHOTOS AND TEXT ON THIS SITE IS COPYRIGHTED. NO PORTION MAY BE REPRODUCED WITHOUT EXPRESSED WRITTEN CONSENT.