ICE CLIMBING GEAR
Ice climbing equipment has improved dramatically over the years. Not too many years ago strap on crampons and wooden shaft axes were the tools of the trade. Today we have step in crampons, carbon fiber for axe shafts and screws that really work. Check out this collection of gear spanning many years of ice climbing innovation.
ICE AXES
CRAMPONS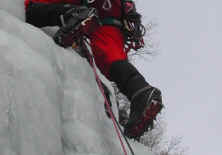 ICE SCREWS
UNDER CONSTRUCTION
ice climbing by state
Navigation
ALL OF THE PHOTOS AND TEXT ON THIS SITE IS COPYRIGHTED. NO PORTION MAY BE REPRODUCED WITHOUT EXPRESSED WRITTEN CONSENT.