CURRENT S.E. ICE CONDITIONS
The goal of this page is to keep southern ice climbers informed of current conditions for North Carolina, Georgia, Tennessee and Alabama. I will post conditions for other states if folks will send me reports. I would like to at least add the Virginia's if ya'll folks will let me know what is growing on. These are the current conditions as I have observed or have been reported to me. Quite often I am out of town and unable to post conditions. When my stuff looks dated check out Adam Fox's ice conditions page. If you can't find the scoop between his site and mine then you are just going to have to go look for yourself. If any information is incorrect or you have additions and updates please e-mail to the .
Folks, I am working on several major updates for the ice climbing part of the site. Just pushed a lot of new info on Hogpen Gap and some on Winding Stair. Going to work on totally revamping every publishable area. If you have pics you want to submit I will take any and all decent submissions from anywhere in the S.E. Tired of posting nothing but pics of Shannon Stegg, myself, and the rest of the ATL crowd. Some of you NC boys have to be taking a camera with you. Send in your stuff along with conditions reports.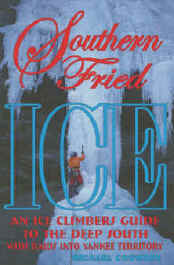 THE GUIDEBOOK IS STILL AVAILABLE!!! CHECK IT OUT!
oh yeah, we are guiding now click to book a time
FRIDAy: 7 december 2018
GEORGIA:
Hogpen Gap: Rain killed it, look next week.
Rabun Bald: Thin ice but forming. See current photo below.
NORTH CAROLINA:
Winding Stair: Not there Yet.
Coyote Ugly was thin but climbed on Friday before weather warmed with some light rain also in front of the big storm moving in.
Photo courtesy Shannon Stegg Dec 2018
Hwy 215: Several thin lines but are detached and degrading. We need cold daytime temps, not just night.
Lots of folks are driving around wasting gas and tomorrow will just be more danger on road than worth looking at nothing.
Wait for snow to fall Sunday & Monday then climb Tuesday through Thursday and hope rain does not hit on Friday.
Going to try and start the conditions page up as work on update for book. It will not be a new book but new and corrected information for download.
TUERSDAY FEBRUARY 20 2019
GEORGIA:
Hogpen Gap: Lots of ice and getting fatter. should be great by the weekend.
Due to quickly changing conditions, possible mistakes in submitted information and other unavoidable and unintended errors do not take this information as completely definitive. Once again I must place a disclaimer. Ice climbing is dangerous and can result in injury, death and other indignities. If you attempt to climb something just because this page says it is in climbable condition then you are dumb and we are not responsible. (Just ask anyone that knows me!) Always seek qualified instruction before attempting to climb ice.
CONDITIONS ARCHIVE FROM THE WAY BACK MACHINE.....
WINTER 2017/2018 WINTER 2009/2010
WINTER 2008/2009 WINTER 2007/2008
WINTER 2006/2007 WINTER 2005/2006
WINTER 2004/2005 WINTER 2003/2004
WINTER 2002/2003 WINTER 2001/2002
ICE CLIMBING NAVIGATION
COOL NETWORK NAVIGATION
ALL OF THE PHOTOS AND TEXT ON THIS SITE IS COPYRIGHTED. NO PORTION MAY BE REPRODUCED WITHOUT EXPRESSED WRITTEN CONSENT